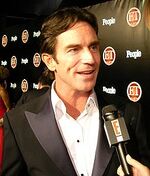 Jeff Probst is the host of Survivor.
Biography
Edit
Probst was born in Wichita, Kansas, but grew up primarily in Bellevue, Washington. After graduating from Newport High School in 1979, he attended Seattle Pacific University and worked at Boeing Motion Picture/Television studio as a producer and narrator of marketing videos. Probst was divorced from his wife of five years, Shelley Wright, in 2001. In his spare time, he is active in the Elizabeth Glaser Pediatric AIDS Foundation.
Jeff is the host of all of Survivor's current seasons.
Jeff is the most seen cast member in the whole series, appearing in every episode, obviously.
Ad blocker interference detected!
Wikia is a free-to-use site that makes money from advertising. We have a modified experience for viewers using ad blockers

Wikia is not accessible if you've made further modifications. Remove the custom ad blocker rule(s) and the page will load as expected.